About Us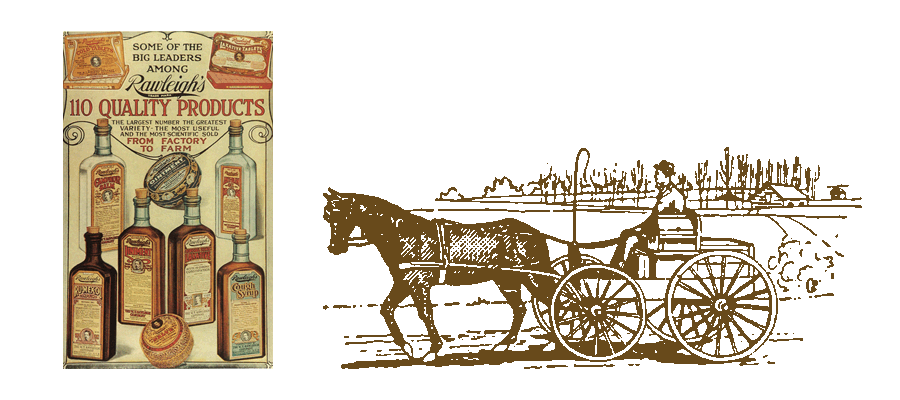 It All Began with $15 and a Borrowed Horse...
The W.T. Rawleigh Company has been a friend of the family since 1889 when William Thomas Rawleigh began his independent sales career at the young age of 18. He established a goal for himself. With only $15, a borrowed horse, a mortgaged buggy, and four types of "Good Health Products," he set out determined to become a successful businessman. Rawleigh secured a large number of customers with his dependable service, honest methods, and free trials. He would leave products on "time and trial" knowing that the products would sell themselves.
The Tradition Lives On...
For more than a century, our customers have come to rely not only on our quality products and excellent service, but on the exceptional ideals and principles on which the company was founded. We are proud of our heritage and strive to continue the goals W.T. Rawleigh achieved on his road to success.
From Tradition to Technology...
Today, we are honored to carry on the dream W.T. Rawleigh envisioned. With his traditional values as our foundation, and the cutting-edge technology of today and beyond, we are excited to take the W.T. Rawleigh brand well into the future. Our goal is to continue to be your trusted source of high-quality, effective products, with customized choices, informative advice, and superior, personalized support.
At W.T. Rawleigh...
We understand that staying healthy is not just about taking supplements. Whether you are looking for a single product or an entire wellness program, we can offer you products that are unique to your needs. We believe that by listening to your concerns, and offering high-quality supplements, we are able to nurture strong relationships. We are here for you.
In an effort to maintain an open door of communication with our customers we always welcome feedback. If you would like to get in touch, please give us a call on our Toll Free number above or use the form on our Contact Us page.
We are headquartered in sunny West Palm Beach, Florida. W.T. Rawleigh is part of the Vitamins Direct Group of companies. The Group also has its operations in the Netherlands, United Kingdom, South Korea and Mumbai.
We have been working in Mumbai since the early 2000s. The Mumbai office of the Group provides back office support and the best in sales and customer service solutions. The team also provides personalized healthcare attention to our long-standing customers.
We are proud that the very same values that we believe in as a company, are reflected in all of our offices across the globe, to ensure we become the preferred healthcare company to people around the world.
Wishing you the best of health,

The W.T. Rawleigh Team
The Vitamins Direct Group of Companies d.b.a.
W.T. Rawleigh, North America